[These pages were authored by the late Thoki Yenn, and were restored here from the
Internet Archive
by
Erik Demaine
, with contributions of missing files from various readers (notably Tommy Stevens, Roberto Morassi, and Boaz Shuval). If you spot any other bugs like missing images or pages, please
report them
.]
KIRIGAMI
Apart from the style below Thok is also doing
Cut and folded Animals.
HIPPOCAMPUS PONS

Director of Influence

Papercutting by Thoki Yenn 1994

Copy of a mental image picture, it emerged after having looked at a picture of the Brain

in Grey's Anatomy.
| | |
| --- | --- |
| | This picture was taken by John Smith at the First International Meeting of Origami science and Technology in Ferrara Italy in December 1989, where Thoki Yenn gave his later so infamous lecture: "Origami and Insanity". |

Click on the Luren and go to Australia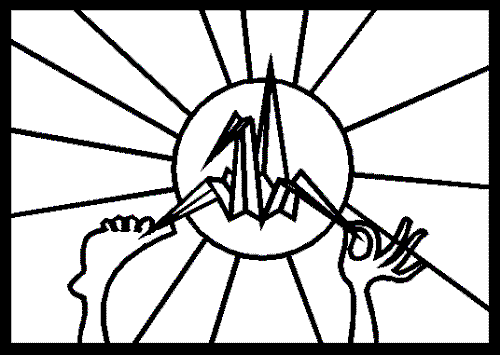 Made for Michael Shall as thanks for giving me his plane-ticket to Japan in 1994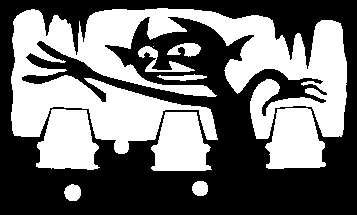 This cut-out was made for the Danish Chef Bjørn Heimann, who is a specialist in close-up magic, and one of his favorites is the classic "Cups & Balls" routine, which he performs with great expertise and elegance. "Cups & Balls" is one of the oldest trick on this planet. He has won prizes at Magic Conventions in Stockholm, Helsinki, Lausanne as well as in Copenhagen of course.
| | |
| --- | --- |
| Another Danish Magician Flemming performs together with his wife, and inspired me to do this one. In the summertime Flemming is working as Pierrot at the famous Danish Amusements place: "Dyrehavsbakken" in Klampenborg | |
Exploding cow, cut and folded by

the famous Canadian Cartoonist and Origami Master

Lar de Souza,

Se more of his scissor work here.
| | |
| --- | --- |
| | I have helped Thok to do this style of papercutting for many years, but I would like to show you how these cut out have inspired some of our friends to do their own version. At Christmas time 1998 my Dutch friend Elsje van der Ploeg sent us this beautiful black and white picture. Thok thought it was a cut-out, but she told me - she always sends special greetings for me, when she write letters to Thok - that it was made on her computer. She has two cats a black one and a white one, and she has managed to get their relationship clearly visible in the picture: |
| Paper-cut emulation by Elsje van der Ploeg, Holland. She has just sent me this new cat picture. She likes this one better. | Ant-oni what are you doing here, why don't you go to the next Cloud |
| FastCounter by LinkExchange | Updated 7. November 2002 |