Most software listed below is free (to use, download, and modify). See also my GitHub profile which includes these and a lot of smaller projects.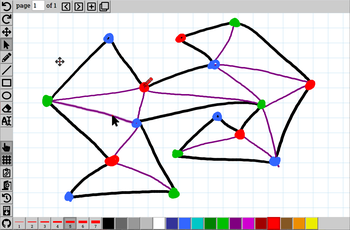 Cocreate
Shared whiteboard tool for drawing, teaching, and brainstorming.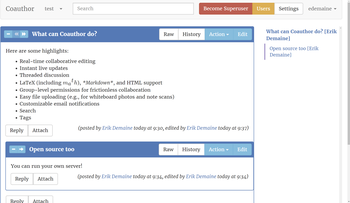 Coauthor
Tool for group collaboration, discussion, keeping track of notes/results of meetings, etc. Its primary goal is to ease multiauthor collaboration on unsolved problems in theoretical computer science, so e.g. you'll find LaTeX math support; hopefully it will have applications in other fields too.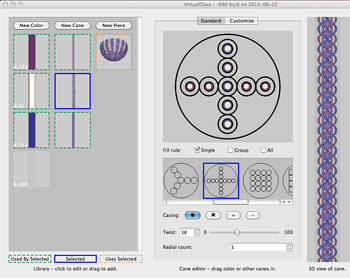 Virtual Glass
Lets glass blowers design and visualize glass cane, and to get a sense of what that cane will look like on a blown piece, all on your computer (without lifting a pipe!). The goal is to allow the exploration of cane designs, especially new cane designs, and settle on a nice-looking design before going through the effort of making it.
Mathematical Demonstrations
Miscellaneous
Boston Subway/Rail Google Map: An alternative map of the MBTA.
Events List (new version coming Real Soon Now!)
Backup To-Do: Save the history of your Toodledo tasks, folders, etc. Also a Python Toodledo API.
TOMPI (Threads-Only MPI Implementation): An MPI (Message-Passing Interface) implementation tuned for a workstation environment for developing parallel programs.
f90doc: A tool for documenting Fortran 90 code.